Loading...
-Like us on Facebook
PARTICIPANT INFORMATION SHEET

COURSE REQUIREMENTS

*** OFFICE LOCATION ***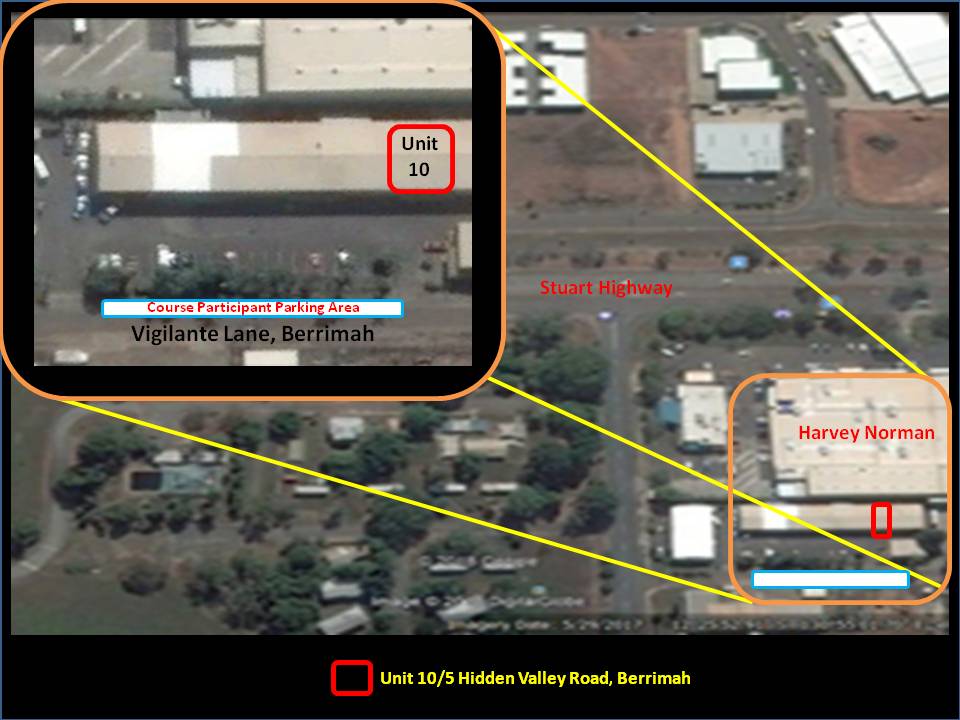 From Stuart Hwy, turn into Hidden Valley Road, turn first left into Vigilante Lane
Participants can park in the car park area or on side of the road near Unit 10
*** GENERAL INFORMATION ***
Except Where Otherwise Indicated, Client Specific Course Quotations Are Based On The Client Organisation Providing Organisation Vehicles And Providing A Minimum Of 8, Maximum Of 10 Staff Per Course. Ad-hoc placement of staff/participants on scheduled courses as per our advertised course scheduling on Click To View Course Scheduling
It Is Recommended That A Minimum Of One Vehicle Be Provided By The Client Organisation For Each Two Participants. All Participants Must Hold A Current Driver's Licence. Unless Indicated, Organisation Vehicles Must Be Registered And In A Roadworthy Condition.
*** PARTICIPANT INFORMATION ***
Staff who attain the desired standard during the course receive the following
# Certificate of Training (includes unit assessment descriptor)
It Is Strongly Recommended That Participants Wear Enclosed Footwear And Take Necessary Precautions Regarding Exposure To Sunlight (Slip, Slop, Slap Etc.) For The Duration Of The Course. Participants are required to manage their own hydration and food requirements through the course activities.

During the practical aspects of the 4 Wheel Drive, ATV and UTV Courses, participants may be exposed to water/mud conditions. Subject to weather conditions, it is recommended that participants wear appropriate clothing which may become wet/dirty.
*** DARWIN COURSE FEE STRUCTURE ***
Course fees are set for the 2023 period as per below - Course fees for areas ex Darwin can be provided on request (fees will vary dependant upon location - travel and accommodation costs are included in the Ex Darwin fee structure)

One Day Defensive Course Bitumen $297.00 Per Person
One Day Defensive Course Dirt $253.00 Per Person
One Day Defensive Course Bitumen / Dirt $440.00 Per Person
One Day 4x4 Operation Course 4x4 Operation $253.00 Per Person
One Day Defensive 4x4 Course Dirt / 4x4 $352.00 Per Person
One Day ATV/UTV Course Off Road $330.00 Per Person

Two Day Defensive 4x4 Course Dirt / 4x4 $506.00 Per Person





*** INDEMNITY ***




The very nature of conducting training courses and specifically, 4 Wheel Drive Operation courses can put accessory gear, equipment and vehicles under stressful conditions. Any damage resulting to gear, equipment or vehicles owned or operated by the client organisation which results from using such gear or equipment throughout the duration of a course (other than damage resulting from negligence by SMART-NT) is the client organisations responsibility and SMART-NT will not be liable for any repairs to or replacement of any such damaged gear, equipment or vehicles.




*** CANCELLATIONS ***




Course cancellations within 7 days prior to the commencement date of a scheduled course will attract a cancellation fee, amounting to 100% of the total course cost. Any failure by a nominated attendee to attend a course will attract a cancellation fee. Fees may be amended to reflect the number of staff that received training in addition to any cancellation fee, at the discretion of the training provider. The first and surnames of the staff attending each course are required to be fax'd/emailed through prior to the commencement of each course. Where incorrect spellings are supplied and require a reproduction of a course certificate, an additional surcharge of $33.00 (GST Inclusive) per certificate will be debited to the client organisation.




*** COVID-19 RELATED CANCELLATIONS ***




Should any form of social gathering restrictions (interstate or intrastate) be reintoduced in the Northern Territory through State / Federal directives which directly affects the attendance capacity of staff to attend a scheduled NT training course or requires SMART-NT to reschedule / cancel training date periods, advice of any such cancellation / rescheduling will be notified to affected clients as soon as possible and cancellation fees will not be applied to organisations where clients were not permitted to travel / attend.




*** ACCOUNT PAYMENTS - OVERDUE ACCOUNTS ***




As of 1/1/18 all invoices are issued by SMART-NT on a 14 day nett payment system. Payments by clients to SMART-NT not received one calendar month after the invoice issue date (30 days overdue from payment due date) will attract an overdue late payment fee charge. Such payment will accrue at the rate of $20.00 per week, calculated on the 7th day of each week after the overdue date falls.

Clients who pay invoices using SMART-NT Credit Card facilities will automatically attract a 1.00% administration surcharge based on the total invoice debit amount.